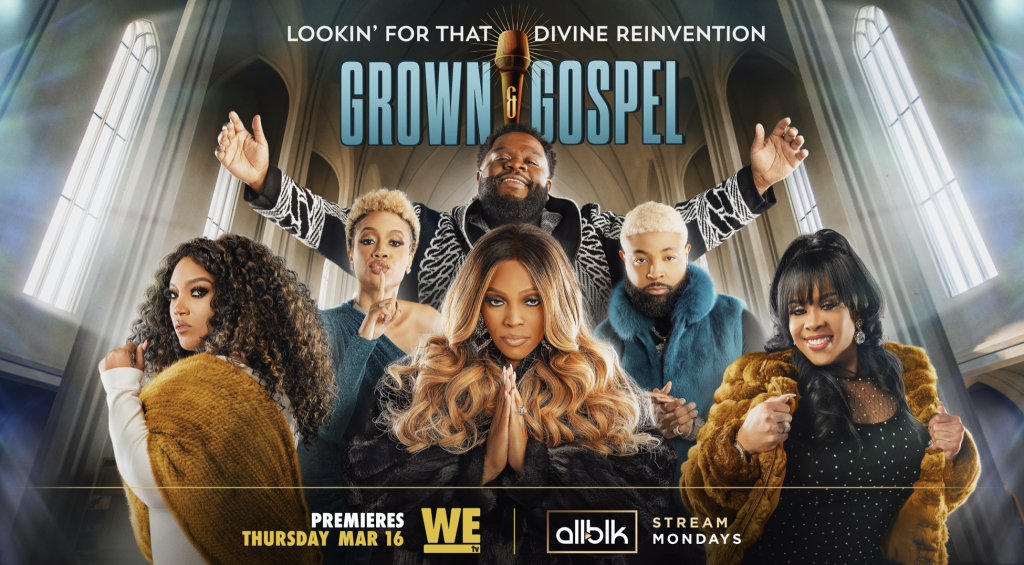 Hey my UnCommon Fam,

I hope you are ready! I had the pleasure of having the cast of WE tv's Grown & Gospel join me on Flow Therapy! It is most definitely something you to watch. As I told the cast, the trailer looks mighty spicy! OK!

I love that there is a show that talks about the lives of our gospel families, behind the scenes and their personal journeys. While this is not a show strictly for a gospel audience, I think it will give you insight to the real world! I grew up in the church, and I'm a PK twice over, but that doesn't mean everything has been peaches and cream. It just means I feel equipped to handle a struggle or two because, I have the tools to get me to the alter!

So, get ready to tune in… It's something special! WE tv on Thursday, March 16 (check your local listings).
____________
New York, NY – February 28, 2023 – WE tv announced the all-new docu-series, "Grown & Gospel," will premiere on Thursday, March 16 at 9pm ET with new episodes available on popular AMC streaming service ALLBLK every Monday. The six one-hour episodes follow five, career-driven childhood friends searching for success in the Detroit gospel scene and beyond. Navigating the murky waters of the music industry and hustling to step out of the shadows of their prominent parents…this close-knit crew grapples with their strict upbringing and high standards as they push towards being the new generation of Gospel. Hearts are broken, dark secrets revealed, as they work to make names for themselves in the music scene and balance their personal lives with career ambition.

With her "Musical Clock" ticking, Breeann "Bree" Hammond returns home to the hub of Gospel of Music to give her career one more shot. The daughter of Gospel great Fred Hammond has a now-or-never attitude and strives to integrate herself not only in the music scene, but with this tight-knit group of childhood friends…also offspring of the Gospel elite. Will they welcome her back with open arms?

Son of Bishop Michael Brooks, founding member of gospel group "Commissioned" along with Fred Hammond…J. Brooks had his first placement at only 14 and has been a traveling musician and producer ever since. With a strong belief that music creates the genre and not vice versa, he was Bree's first call upon her return to Detroit. Will he be able to rally the crew to support Bree? 

Tasha Page-Lockhart is the daughter of Lisa Page Brooks, one of the original members of the contemporary gospel group "Witness." A mother of two and recent winner of BET's Sunday Best striving to push her career forward…Tasha is working on a compilation album with stepbrother J. Brooks and struggling to hold on to her marriage. But will her sordid past sabotage it all? 

Elijah Connor is an R&B singer on a strictly secular path in the music business and lives by the motto, "Ask for forgiveness, not permission." Regardless of having grown up in the church as a PK (Preacher's Kid), his interests led him in a different direction. Though he is tirelessly working towards success…the pressure to prove himself to his parents is immense as they are still disappointed that he never graduated college and strayed from the church.  

Nikkia Cole-Beach was rebellious in her youth and all eyes were on her as the daughter of the legendary Dorinda Clark Cole of "The Clark Sisters."  Having overcome many demons on the journey to adulthood, Nikkia is now balancing her fulltime job as tour manager for "The Clark Sisters," motherhood and being the rock for her family, while her husband is in prison. Although she has come a long way, she is in a constant battle to escape the judgment of her past. 

Shana Wilson-Williams is a singer, wife and mother of three, raised by two Pastors who served the Detroit church community for over 30 years. Although a worship leader in her own right, she feels like an outsider in the gospel music industry and will have to work even harder without any "coattails to ride" like the rest of her peers. 
Flow Therapy Interview with the Cast of WE tv's Grown & Gospel & Cocoa B
WATCH THE "GROWN & GOSPEL" SNEAK PEEK
"Grown and Gospel" is Executive Produced by Carlos King, Scott Shatsky and Co-Executive Produced by Angela Dugan of Kingdom Reign Entertainment. Kat Uyenco and Nisa Ahmad also serve as Executive Producers. Lauren Gellert, David Stefanou and Ashley McFarlin, serve as Executive Producers for WE tv.
###
About Kingdom Reign EntertainmentFounded and run by CEO Carlos King, Kingdom Reign Entertainment is a full-service production company that creates both unscripted and scripted content for networks, streaming and digital platforms. Focused on uniquely engaging personalities and relationships, Kingdom Reign's hit series include Love and Marriage: Huntsville and Love and Marriage: D.C (OWN); as well as The Nightcap with Carlos King, Belle Collective and Behind Every Man (OWN); Grown & Gospel (WE tv); Styling Hollywood (Netflix); My Killer Body with K. Michelle (Lifetime); Gucci Mane & Keyshia Ka'Oir: The Mane Event (BET); BET Presents: The Encore (BET); Hollywood Divas (TV One); My Super Sweet 16 featuring Reginae & Lil Wayne (MTV); Selling it in the ATL (WE tv), The Next 15 (TV One) and many others. Kingdom Reign is headquartered in Beverly Hills, CA; for more information visit kingdomreignent.com. About WE tvWith compelling, can't miss unscripted shows, WE tv's programming is fueled by personalities and relationships filled with purpose and passion. WE tv welcomes everyone and creates an inclusive experience across all platforms: on TV, online, on demand, and social media, embracing how today's digitally savvy, socially engaged audiences connect through content, using it as a catalyst to drive conversation and build community. Further building on this mission, current WE tv originals are now available to stream on WE tv's sister platform, ALLBLK. WE tv is owned and operated by AMC Networks Inc., and its sister networks include AMC, BBC America, IFC, SundanceTV and streamers Acorn TV, ALLBLK, AMC+, Shudder and Sundance Now.