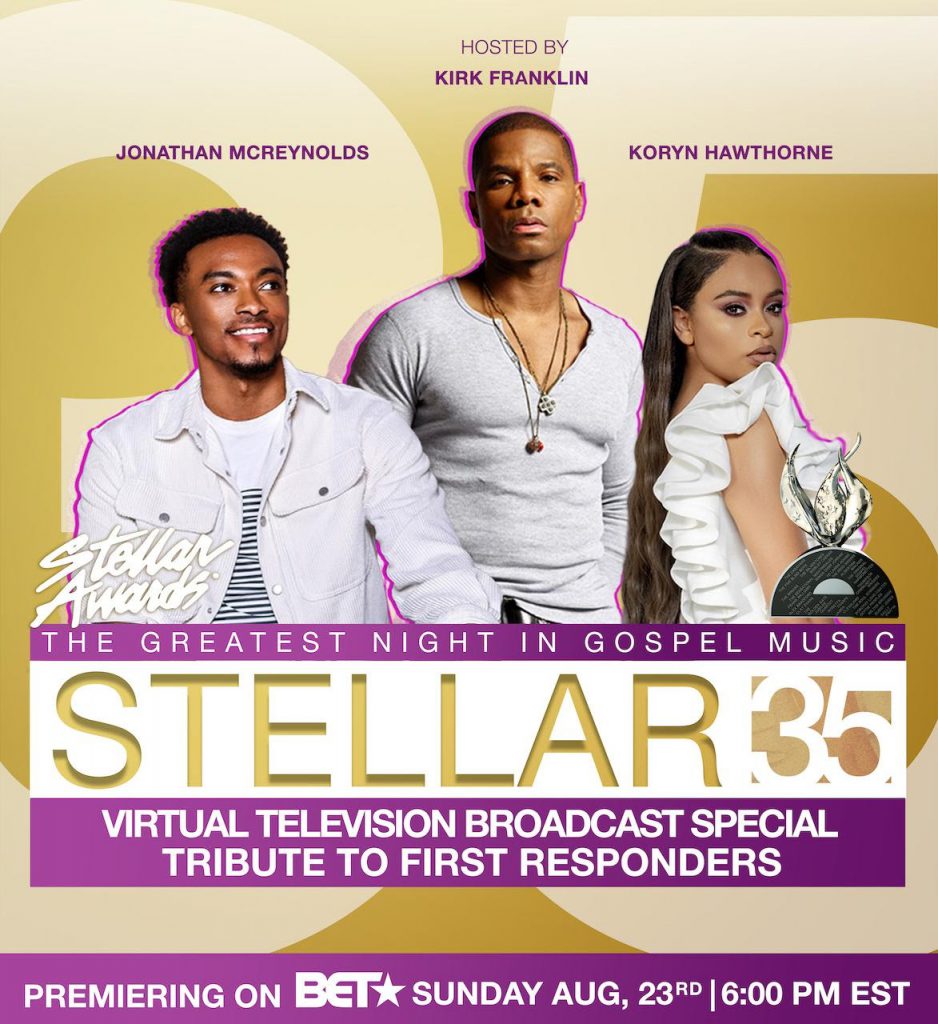 RENOWNED ANNUAL SALUTE TO GOSPEL MUSIC RETURNS TO BET TO
CELEBRATE 35TH ANNIVERSARY MILESTONE, HONORING FIRST
RESPONDERS AND THE LATE CONGRESSMAN, JOHN LEWIS VIRTUAL
PRODUCTION ENCORES AT 9PM ET AND AIRS IN SYNDICATION
NATIONWIDE AUGUST 25 – SEPTEMBER 30
(Featured Photo Credit: Earl Gibson III, Courtesy of Central City Productions)
(CHICAGO, IL) August 7, 2020 – The "Greatest Night in Gospel Music"
mereturns to television when the 35th Anniversary Stellar Gospel
Music Awards premieres on BET Networks as a two-hour virtual
special on Sunday, August 23 at 6 p.m. ET. Also simulcast on BET Her,
the virtual production will acknowledge all award winners from the
Stellar Awards pre-show and main show, with select categories being
presented in the broadcast. Led by the superstar trio of Kirk Franklin,
Jonathan McReynolds and Koryn Hawthorne as hosts, the show will
celebrate 35 years of excellence in the genre with inspirational
performances from Gospel music's most celebrated artists, and honor the contributions of first responder heroes on the front lines of the battle
against the Coronavirus pandemic.
Rounding out a night of inspiration, the Stellar Awards will be followed
by the season 10 finale of BET's "Sunday Best" at 8 p.m. ET. In addition, an encore presentation of the Stellar Awards is scheduled for 9 p.m. ET. The award show will also run in national broadcast syndication in 210
markets starting August 25 – September 30 (check local listings).
"As an organization whose roots are anchored in the African American
experience, and whose original programming has always highlighted
many aspects of Gospel music and the religious experience, we are
delighted to bring the Stellar Gospel Music Awards Virtual Special to our viewers around the world," said Connie Orlando, EVP Specials, Music
Programming & Music Strategy at BET. "I am especially pleased at how
our 35th Annual Stellar Awards virtual production has come together to honor both our award winners and First Responder Heroes, especially
under the difficulty of restrictions due to the current COVID pandemic,"
said Executive Producer and Stellar Awards Founder Don Jackson.  "I
want to thank our terrific production team for a job well done on the
show!"
Confirmed performers include Anthony Brown, CeCe Winans, James
Fortune, Koryn Hawthorne, J.J. Hairston & Youthful Praise, Jonathan McReynolds, Travis Greene, Kierra Sheard, Marvin Sapp, Tye
Tribbett, Tauren Wells, Zacardi Cortez, Pastor Mike Jr, DOE, Rich
Tolbert Jr., and more. Emerging artists set to make their Stellar Awards
debut include Group Fire, Keyla Richardson, Melvin Crispell III, and 
Titus Showers. The "Road to the Stellars" kicks off with a week-long
digital announcement of the non-televised pre-show winners. Pre-Show
nominees and winners will be announced daily at 6 p.m. CT from
Monday, August 17 through Saturday, August 22 on the 
Stellar Awards website as well as Facebook and Instagram pages. The
show's star-studded digital red carpet will be hosted by Gospel artist 
Jekalyn Carr on Stellar Awards Facebook  and Instagram pages at 4 p.m. CT on Saturday, August 23. The Stellar Awards recognizes the year's best performances in the genre, honors Gospel music icons and acknowledges the accomplishments of individuals instrumental in advocating for the
industry. Previously announced nominees for the 2020 Stellar Awards
include veteran Gospel collective Donald Lawrence Presents The Tri-
City Singers, who leads the field of nominees with nine nominations. 
Other top nominees include Gospel icon and Stellar Awards Host, Kirk
Franklin and powerhouse singer, producer and performer Tasha Cobbs Leonard with eight nominations each; JJ Hairston (7 Nominations), 
Bishop Paul S. Morton (6 Nominations), John P. Kee (5 Nominations), 
Kurt Carr & The Kurt Carr Singers (4 Nominations), William Murphy (4 Nominations), Pastor Mike, Jr. (4 Nominations), Maranda Curtis (3
Nominations), and Fresh Start Worship (3 Nominations) round out the
field of top nominated artists. For the complete list of the 35th
Anniversary Stellar Gospel Music Awards nominees, please visit 
www.thestellarawards.com. More of the biggest names in Gospel and a
few additional surprises are being added to the growing list of top
performers appearing in this year's show, presented by AT&T and also
sponsored by State Farm.
ABOUT CENTRAL CITY PRODUCTIONS (CCP)The Stellar Gospel Music
Awards show is Executive Produced by Don Jackson, with Jennifer J. Jackson serving as Executive in Charge of Production. Michael A. Johnson will produce and direct this year's award show.
Founded in 1970 by Don Jackson, Chicago-based Central City Productions, Inc. is a national broadcast television producer and syndicator of its
exclusively owned African-American programming. Celebrating over 50
years of broadcasting Black excellence with uplifting and entertaining
original television content, CCP's award-winning television programs
include The Stellar Awards (www.thestellarawards.com), Black Music
Honors (www.blackmusichonors.com), Stellar Tribute to the Holidays,
The Black College Quiz Show Series (www.blackcollegequiz.com), 
Mentoring
Kings (www.mentoringking.com) and Stellar Sunday
(www.stellarsundays.com), among many others. ABOUT BET NETWORKSBET Networks, a subsidiary of Viacom CBS Inc. (NASDAQ: VIACA, VIAC), is the nation's leading provider of quality entertainment, music, news, and public affairs television programming for the African-American audience. The primary BET channel is in nearly 90 million households and can be seen in the United States, Canada, the Caribbean, the United Kingdom,
sub-Saharan Africa, and France. BET is the dominant African-American
consumer brand with a diverse group of business extensions including
BET.com, a leading Internet destination for Black entertainment, music,
culture, and news; BET HER, a 24-hour entertainment network targeting
the African-American Woman; BET Music Networks – BET Jams, BET Soul and BET Gospel; BET Home Entertainment; BET Live, BET's growing
festival business; BET Mobile, which provides ringtones, games and video content for wireless devices; and BET International, which operates BET Networks around the globe.
FOLLOW THE STELLAR AWARDS ON SOCIAL MEDIA FOR UPDATES
AND MORE! ‌  ‌  ‌  ‌
WATCH HIGHLIGHTS FROM THE 2019 STELLAR AWARDS (Courtesy
Credit: Central City Productions)Stellars Youtube Channel