Los Angeles – OWN: Oprah Winfrey Network's award-winning "Iyanla: Fix My Life" featuring six-time New York Times bestselling author, spiritual life coach and executive producer Iyanla Vanzant currently airs Saturdays at 9 p.m. ET/PT on the Oprah Winfrey Network.
In This Week's Episode:
Arica Adams, better known as "Hazel-E," is a reality television star formerly featured on "Love & Hip Hop: Hollywood." As her fame began to rise with the show's ratings, her haters grew louder, putting her insecurities to the test. Eventually, Hazel-E publicly imploded on social media with a series of unhinged, racist rants that led to her dismissal from the series. Following her departure, Hazel-E pursued a music career that featured provocative lyrics and music videos — once again attracting fame for all the wrong reasons. Today, Arica is hoping to unmask her own vicious cycle of negative behavior and find better ways to express herself in an effort to grow up the dysfunctional little girl that still lives within her. Special guests include singer-songwriter Estelle, actress Chrystale Wilson ("The Player's Club"), actress Raven Goodwin ("Being Mary Jane") and media personality Rashan Ali.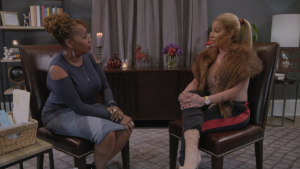 Photo Caption: In a new episode of "Iyanla: Fix My Life," Iyanla Vanzant is joined by former "Love & Hip Hop: Hollywood" star Hazel-E. Photo Courtesy of OWN
*Please be advised, graphic language in the episode.