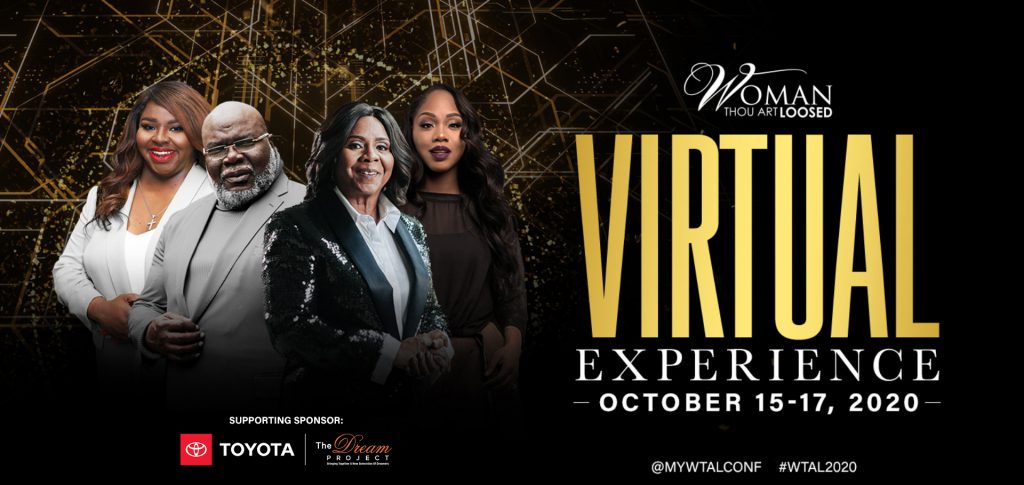 WTAL 2020
For over 20 years, Woman, Thou Art Loosed! (WTAL) has been at the forefront of social change, echoing the cries for freedom and equality of those who've blazed these paths before us. Through every movement, we've stood firm, unafraid to use our voice and platform and plant our roots at the intersection of justice and faith.  
In this period of extreme change, WTAL evolves with the times—moving our 2020 conference to a virtual experience on October 15-17, 2020, but further committed to empowering women. Now you'll have the opportunity to connect with the community and create dedicated time for learning, praise and worship, all online. In our three-day gathering, we'll explore relevant, diverse programming that allows you to feed your spirit and stimulate your mind. Plus, we'll meet you where you are with two premier experience opportunities.
This event was created to speak to every woman in the room, to elevate your influence in spheres that were once seemingly unattainable. You've partaken in conversations powerful enough to shift a society, and you've created a sisterly bond strong enough to withstand the limitations of time and distance. From one generation to another, your mantle of excellence is a reflection of God's promises.
Bishop T.D. Jakes, the chief architect behind it all, has witnessed the indelible impact that Woman Thou Art Loosed has afforded women the world over. Your faith, your accomplishments, your character, and your aspirations continue to make him proud.
Before we say our farewells to Woman Thou Art Loosed, let's celebrate our journey across more than two decades of terrain at homecoming!
WTAL Virtual Experience
This year's Woman, Thou Art Loosed! (WTAL) is a brand-new experience, bringing the best of the world's most beloved women's Christian conference to the digital stage. The WTAL Virtual Experience—hosted on YouTube—will serve as the same trusted space to ignite social change, gather for worship, and leave you empowered like our in-person conferences of years past. Featured speakers include Pastor Cora Jakes Coleman, an accomplished speaker and prayer warrior, and Pastor Sarah Jakes Roberts, founder of Woman Evolve. Meet these speakers and others at the intersection of justice and faith during our three-day virtual gathering. Enjoy this complimentary content when you subscribe to our official YouTube channel.
L-R: Bishop T. D. Jakes & Mrs. Serita A. Jakes
L-R: Pastor Sarah Jakes Roberts and Pastor Cora Jakes Coleman
L-R: Evangelist Christine Caine and Dr. Yolanda Pierce

L-R: Pastor Sheryl Brady and Priscilla Shirer
Marissa Farrow
For more information: https://www.wtal.org/